Sustainable products & services
Zeppelin's mission is to enable its customers to achieve long-term and sustainable economic profit. In terms of its own products and services, the Zeppelin Group offers its customers a growing, sustainable portfolio. Zeppelin thus supports them in achieving their own sustainability goals and in shaping their value creation processes. Zeppelin's products enable sustainable profitability through increased efficiency, reduced fuel consumption, and lower maintenance costs. The range of products includes low-emission or zero-emission solutions with hybrid and electric drives. Extensive services such as regular maintenance, warranties, and the reconditioning of machines, as well as spare and add-on parts extend the service life and ensure resources have a longer useful life. Zeppelin products meet high safety standards and protect customers and employees.
bauma 2022
The bauma 2022 trade fair took place in Munich from October 24 to 30. The trending topics at the world's largest construction machinery trade fair this year included digitalization and sustainability. Alternative drive technologies such as electric motors, fuel cells, and a combination with combustion engines in the form of a hybrid drive took center stage. Under the motto "Let's do the work", Zeppelin Baumaschinen GmbH presented its diverse portfolio in Hall B6, consisting of electric construction machines such as the Cat 301.9 electric mini-excavator and the successful Cat Certified Rebuild repair program, which enables more sustainable use by saving raw materials and primary energy. Zeppelin Rental presented the ecoRent rental program for the first time together with Zeppelin Construction Equipment, presenting visitors and customers with innovative and low-emission machines and construction equipment such as an electrically powered eSprinter van, an emission-free LED floodlight mast system, and a chain scissor lift with hybrid drive.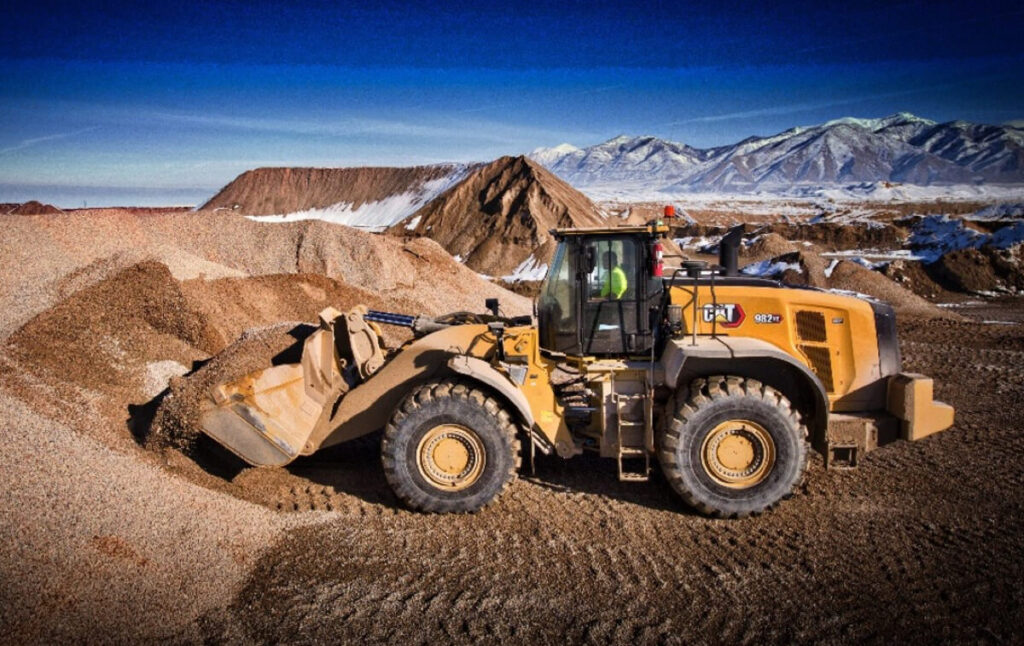 The Construction Equipment Central Europe, Nordics, and Eurasia SBUs provided an insight into high-performance equipment for earthmoving, excavation, demolition, recycling, and road construction. Products also included machinery for gardening and landscaping, agriculture, and for industry. Special machines for surface and underground mining, as well as large and special equipment for mines, quarries and the oil and gas industry, along with various assistance systems, machine controls, and fleet management systems for in-house and third-party machines completed the product range. The general overhaul of used construction equipment was also presented as a cost-effective and resource-conserving alternative to buying new. In this respect, particular emphasis was placed on all-round care for customers in the construction sector and the building materials industry, who were offered integrated solutions from seismographic soil analysis to all-inclusive contracts. Zeppelin's sales and service organizations for new and used Caterpillar construction machines, as well as used construction machines from other manufacturers and the corresponding attachments in Central Europe, Northern Europe, and Eurasia, offered the following services, among others, that contribute to sustainability and business:
Environmentally friendly alternatives
Zeppelin offers its customers construction machines from its manufacturer partner Caterpillar Inc. such as wheel loaders, which have been awarded the "Blue Angel" label and are especially quiet. Mini excavators with combined diesel or electric drive via cable and electric material handlers with cable supply are an economic and environmentally friendly (low-emissions) solution for special applications.
Construction machines with environmentally friendly engines
Most construction machines from the manufacturer partner Caterpillar Inc. meet the current emissions level V and are therefore as environmentally friendly as a modern car diesel engine. Today, these products are exemplary in many areas in terms of fuel consumption – including electronic controls, various operating modes, idling shut-offs, electrically powered demand fans, and smart transmissions. The design of the overall powertrain focuses not only on efficiency, but also on reducing emissions.
Assistance systems
There are assistance systems precisely adapted to every area of application and every construction machine, which make work even easier for experienced drivers and enable inexperienced drivers to achieve the desired work result more quickly. This saves machine running time, fuel, and wear and tear, and reduces the environmental impact.
Condition monitoring
Constant monitoring of the machine condition not only prevents failures, but also ensures permanently good maintenance and upkeep status of construction equipment. This not only has a positive effect on operational readiness, but also on the environment.
Fleet management
Modern fleet management enables optimization of processes in construction, and also records fuel consumption and unproductive idling phases. This allows objective decisions to be made on the basis of numbers and the performance of the driver and machine to be improved systematically. This is possible for Caterpillar construction machines as well as for machines from competitors.
Extending product life
Preventive maintenance
Preventive replacement of construction machine components extends machine life and prevents unexpected failures. This means that new purchases can be postponed, money can be saved, and raw materials can be used sustainably.
"Certified Rebuild"
These special programs from Zeppelin and Caterpillar include a complete overhaul of the powertrain or the entire machine. The machine or powertrain therefore meets the quality requirements of a new machine. This not only saves costs, but also raw materials and primary energy and extends the service life of the machine.
Replacement parts
Many components such as crankshafts, alternators, starters or transmissions of a construction machine can be given a new lease of life. Instead of a new part, it can be possible to offer a replacement with an overhauled old part if there is a defect. This saves both costs and raw materials.
Protecting the environment with bio-oil
The "HYDO Advanced bio-oil" from Caterpillar Inc. is biodegradable and has been awarded the "Blue Angel" label. In a construction machine, ingress of dirt or contact with external attachments can contaminate the hydraulic oil. It can be cleaned in a mobile ultra-fine filter system, saving you hundreds of liters of oil in a cost-effective and environmentally friendly way.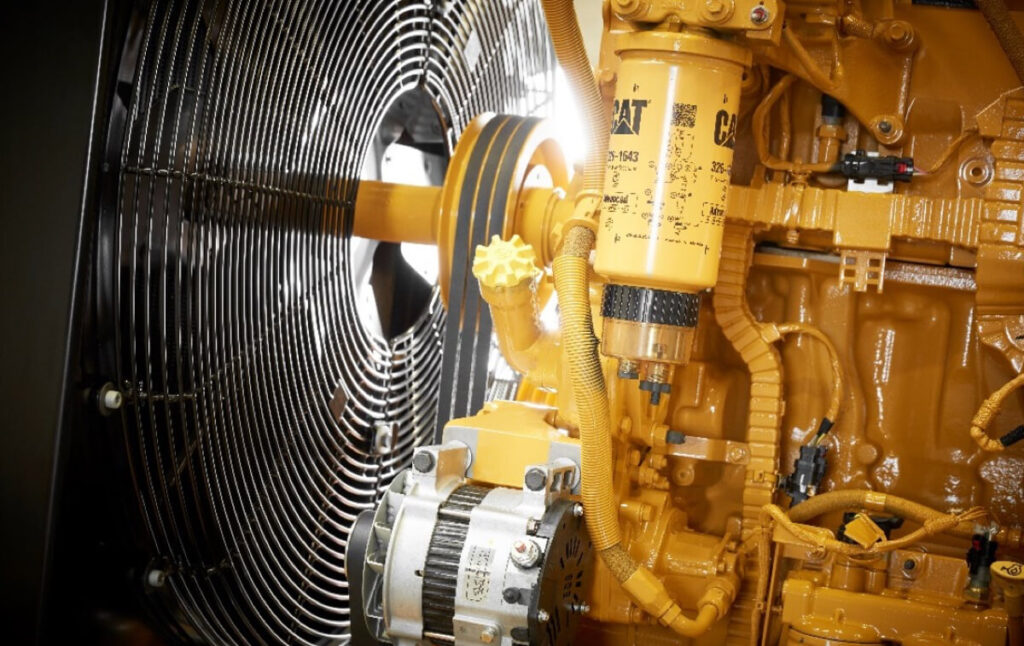 The Zeppelin Power Systems SBU is a leading provider of drive, propulsion, traction, and energy systems. The company offers highly efficient solutions in the fields of industrial and marine applications, rail vehicles, the oil and gas industry, and power and heat generation. In addition to drive solutions based on Caterpillar diesel, gas and dual-fuel engines, the Zeppelin Power Systems portfolio also includes generator sets for power generation, combined heat and power plants, ship propellers, complete drive systems, as well as complementary systems and worldwide service.
Digital products for all segments as well as system components and complete solutions for treating ballast water complete the product range. The following solutions are particularly relevant to sustainability:
Advanced technologies – ballast water treatment systems
As an official partner of Optimarin, Zeppelin Power Systems implements system solutions for ballast water treatment for customers in the maritime sector.
Fleets and machine management
With the Active Equipment Connect solution, customers can operate engines and systems efficiently and in a way that conserves resources. This extends the service life of the engines and lowers emissions and fuel consumption. Data-based action with a focus on HSE (Health, Safety, Environment) simplifies the management of machines and fleets.
Extending product life
Zeppelin Power Systems offers competent execution of all maintenance and repair work that ensures long-term use of resources. Before delivery to the customer, the engines are run on the test bench and preventively examined for possible sources of fault. Preventive maintenance increases operational safety and reduces unexpected breakdowns and costs.
Product developments
Zeppelin Power Systems' corporate development team is constantly working on projects to expand its product portfolio. They focus in particular on more sustainable drive and energy systems such as fuel cell technology, but also large-scale heat pumps, which play an important role in the decarbonization of heating networks. In addition to combined heat and power projects already underway, in which large-scale heat pumps are primarily used to increase overall system efficiency, other areas of application in the high-temperature range and waste heat utilization in industrial plants are currently being analyzed.
Alternative fuels
Caterpillar Cat and MaK engines can be operated with alternative fuels in addition to conventional diesel fuel. These include biodiesel, hydrogenated vegetable oils (HVO), and synthetically produced fuels such as GTL (gas-to-liquids). In the future, the company plans to add methanol (methanol blending) and a 25% hydrogen admixture in CHP plants with gas engines.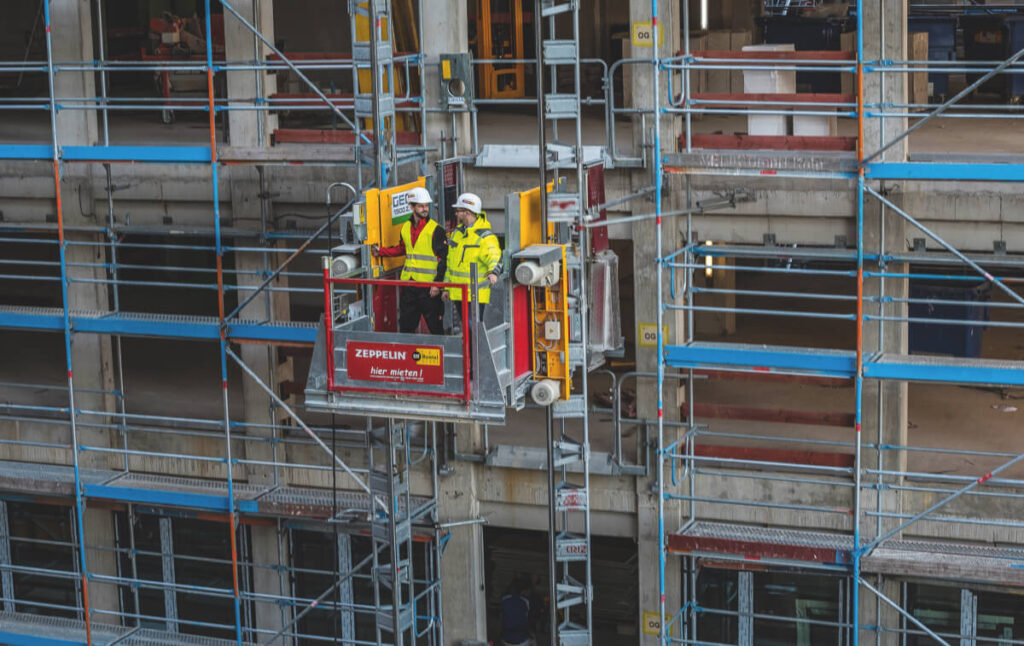 With customized solutions in the areas of machine and equipment rental, temporary infrastructure and construction logistics, the Rental SBU ensures the safe and efficient execution of projects in construction, industry, manual trades, and events. More than 75,000 machines and devices for rent, from the global market leader Caterpillar and other renowned manufacturers, guarantee maximum availability, quality and range. Temporary infrastructure provides needs-based concepts in site and traffic guidance, energy and construction water supply, power generation and air conditioning technology as well as customized modular room solutions: Planning, installation, and ongoing support from a one-stop shop. Through the overarching planning and coordination of all secondary processes on a construction site, construction logistics ensures the framework conditions for smooth processes as well as adherence to deadlines and budgets. The Rental SBU offers a wide range of solutions to help our customers achieve their sustainability goals.
State-of-the-art rental fleet: The launch of the ecoRent environmental brand in 2011 was trend-setting in the market, and the portfolio has been continuously expanded since then.
Resource-saving work: The sustainable ecoRent program includes rental machines and equipment with combustion engines that meet the currently valid EU Stage V emissions standard, as well as hybrid technology.
Carbon neutrality: Electrically operated equipment from the ecoRent portfolio already enables carbon-neutral working today. The range includes personnel work platforms, construction machinery, and construction equipment.
Mobile charging solutions including innovative battery storage systems, installation and commissioning
Disposal logistics for segregated waste separation, maximization of the recycling rate on construction sites, and for cost-by-cause billing
Traffic telematics solutions with energy-efficient LED displays for intelligent traffic control for fewer traffic jams and thus reduced CO2 emissions
Supply of green electricity from 100% renewable energy sources with proof of origin for construction sites, production facilities, and properties
Consulting services for energy management in accordance with ISO 50001 and for photovoltaic systems
Construction logistics planning and management for seamless processes, e.g. to optimize delivery traffic, avoid traffic jams, increase productivity and efficiency, and thus prevent unnecessary use of resources in the construction process
Digital operation of metering points to detect costly peak loads in construction site power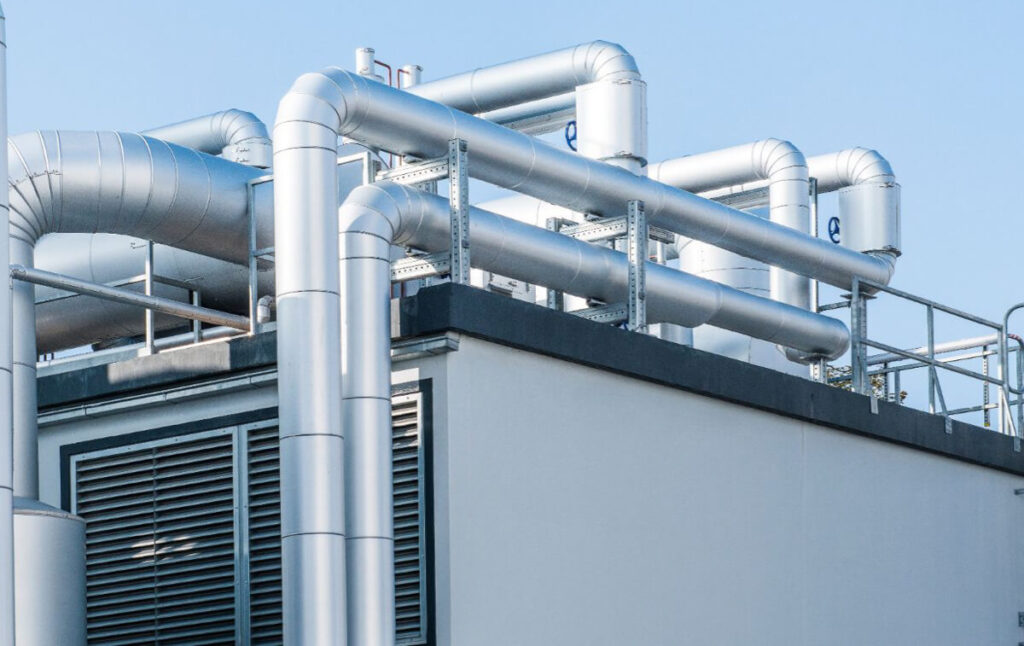 The Plant Engineering SBU specializes in constructing systems for the handling of high-quality bulk materials. From system planning to implementation, Plant Engineering supports its customers, providing all services from a single source.
Innovative process concepts are just as important as smart automation solutions and comprehensive service that covers the entire lifecycle of a system. Each Zeppelin system meets the individual requirements of its customers, who come from industries such as plastics, chemicals, rubber and tires, as well as food. In addition, new customer groups will be opened up in the area of tire and plastic recycling and battery mass production. With a large Association of Technical Centers for Bulk Materials, Zeppelin makes it possible for its customers to review and optimize plant design on an industrial scale. Zeppelin also develops and manufactures its own components for plants' key functions, and these are used in third-party systems too. The following is a selection of products and services with a particular focus on sustainability in the Plant Engineering SBU:
Zero-waste production
Conveying systems are optimally designed when the conveying task and method are optimally matched to each other. Optimized conveying saves energy, prevents emissions, and helps to reduce abrasion, dust formation, and grain breakage through gentle conveying. Further design measures, from feeding raw materials and emptying containers to their introduction into the process, prevent additional material losses during material handling and increase product quality.
As standard, the plants are equipped with return conveyors or rework processes in order to return production-related waste directly to the process.
Bread that cannot be sold due to visual imperfections need not be thrown away. These bread residues can be utilized sensibly – even with improved dough quality and taste.
The Plant Engineering SBU provides a liquid dosing system for a wide range of process liquids and, in some cases, highly viscous and functional additives. Liquid dosing systems tailored to the processes enable high-precision dosing – even in a closed circuit. The precise and loss-free incorporation of functional fluids is also possible, for example in the area of tire production. This not only saves costs, but also protects the environment.
Recycling
Recycled plastic granulate has one critical disadvantage: it often smells unpleasant. Therefore, it can only reused to a very limited extent in plastic production. Deodorization processes from Zeppelin Systems degas plastic recyclates so that they can be returned to the production process in larger quantities. By using more recycled materials, customers can easily achieve and even increase their recycling rates.
With technologies from the Plant Engineering SBU and the use of high-quality recycled materials, valuable raw materials such as industrial soot, rubber granulate, and rubber powder can be saved in the future.
For rubber and tire waste, Zeppelin offers various recycling processes for the higher-quality return of recycled materials into high-value (new) products and new tires.
Recycling passenger car tires produces 'fluff', a light fraction that is created from the reinforcement fibers in the tire during the shredding process. These fibers are prepared using a special process and replace chemical additives in asphalt coverings. The fibers even provide better performance in terms of crack resistance and ductility compared with today's common additives. A typical case of upgrading a recycled material to a functional additive with added value.
Systems for the safe production of battery compounds
Adapted to the customer's needs and requirements, Zeppelin Systems develops tailor-made solutions for handling raw materials to produce battery compounds. The raw materials required for this are not only expensive, but also harmful to health. The strictest requirements and extensive experience in hazardous substance handling (including in the areas of ATEX and containment) are therefore mandatory. Extensive process engineering expertise in the storage, conveying, dosing, and mixing of raw materials is also a basic prerequisite for an optimal production result. Maximum accuracy and traceability in the production process are quality criteria that must be met. Zeppelin Systems boasts an impressive track record in this area with its many years of experience. Throughout the entire project cycle – from engineering and assembly to commissioning and subsequent fine adjustment in the technical center with product trials – Zeppelin Systems provides solutions. In summary, this means:
• individual customer solutions for optimal processes, maximum product quality, and long life cycles
• energy-saving and environmentally-friendly processes
• a high level of safety throughout the entire production process
• high-quality filter solutions and aspiration systems in all process stages and generally high-quality design for minimal emissions of dust, odors, and noise
• automation solutions to increase process efficiency, reduce downtime, material loss and production errors
The Zeppelin Group IT Strategic Management Center (SMC) supports all strategic business units in a cross-functional manner, bringing together expertise in the Zeppelin Group from the areas of IT, data, infrastructure, security and compliance, and digital product development. With Zeppelin Digit, the Group is putting in place a consistent IT landscape based on an infrastructure which is standardized across all disciplines. Zeppelin Digit facilitates collaboration across all SBUs and departments on an interdisciplinary, transparent, and open basis.